Antimicrobial Protection
During the manufacturing process, the glaze is infused with Microban® Antimicrobial Technology, which inhibits the growth of stain- and odor-causing bacteria on the surface of the tile. The result is an additional layer of protection, keeping the tile cleaner, between cleanings
Continuous Protection
Microban® Technology is incorporated into the glaze during the manufacturing process, so it starts working the moment the tile is complete. Unlike other antimicrobial agents on the market, Microban® doesn't require UV light to be effective. It won't wash off or wear away, giving your design an added level of durable, long lasting protection - and it's perfect for high traffic environments.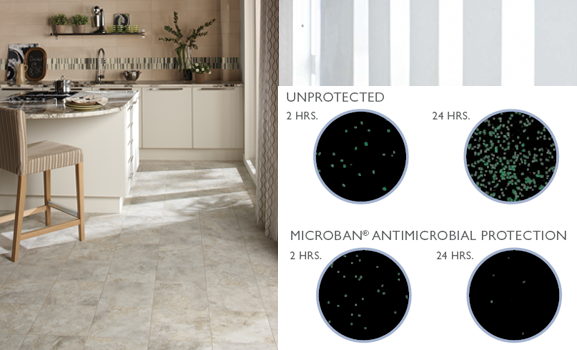 PTCA Certified
Some foreign imports entering the market today claim to be porcelain tile, but do not actually meet the U.S. standards for porcelain - putting you at risk of specifying an inferior product for your project. PTCA protects you by guaranteeing the products you specify are, in fact, porcelain tiles.

*This information is based upon standard laboratory tests and is provided for comparative purposes to substantiate antimicrobial activity for non-public health applications. Microban® technology is not designed to replace good building practices or protect users from disease causing microorganisms. Antimicrobial action limited to product surfaces.